Air Compressors in Cardiff
Established in 1973, Control Gear has grown into one of the largest compressor distributors and service companies in the region of our nation's Capital.
Offering a complete range of industrial air and gas generation equipment we provide our customers with the total industrial solution – whatever the requirement.
We work closely with our clients to ensure they are achieving the most efficient and cost-effective performance from their compressed air equipment.
Industrial Air Compressors for the Cardiff region
We supply a range of reliable and energy-efficient air compressors across South Wales and the rest of the UK. Suited for any application with the lowest life-cycle cost, that will help you reduce your energy bills by up to 60%.
Compressors involve various technologies with the most popular being Oil Injected Rotary Screw Compressors and Reciprocating Piston Machines. We hold considerable stock of these type of compressors in order to offer a quick response and turnaround to our customers.
Other compressor technologies include Oil Free Rotary Screw, Scroll and Turbo Machines. Our technical team have the knowledge and experience to help customers make sure they choose the correct technology for the required application and specification. Whatever your compressed air needs – Control Gear can deliver the answer.
Discover our range of industrial air compressors today.
Why choose an Atlas Copco air compressor?

Energy Efficient & Cost Effective
With ever-increasing energy prices, it is now more important than ever to ensure your compressed air generation is as energy efficient as possible. Atlas Copco were the pioneers of Variable Speed Drive compressor technology and are now on their fifth generation of VSD design machines. Their latest VSD compressors are setting the standard once again. Reducing energy by a massive 60% verses fixed speed technology screw compressors.

New Atlas Copco compressors can be fitted with state-of-the-art Energy-Recovery Systems. These units use the heat generated in the compressor running process to warm water for downstream applications. Such as, pre-heat to a boiler system or heating water for washroom facilities.
Our technical sales team can undertake comprehensive compressed air audits utilising the very latest data logging and analysis tools. These audits often result in identifying vast energy saving potentials for the end user.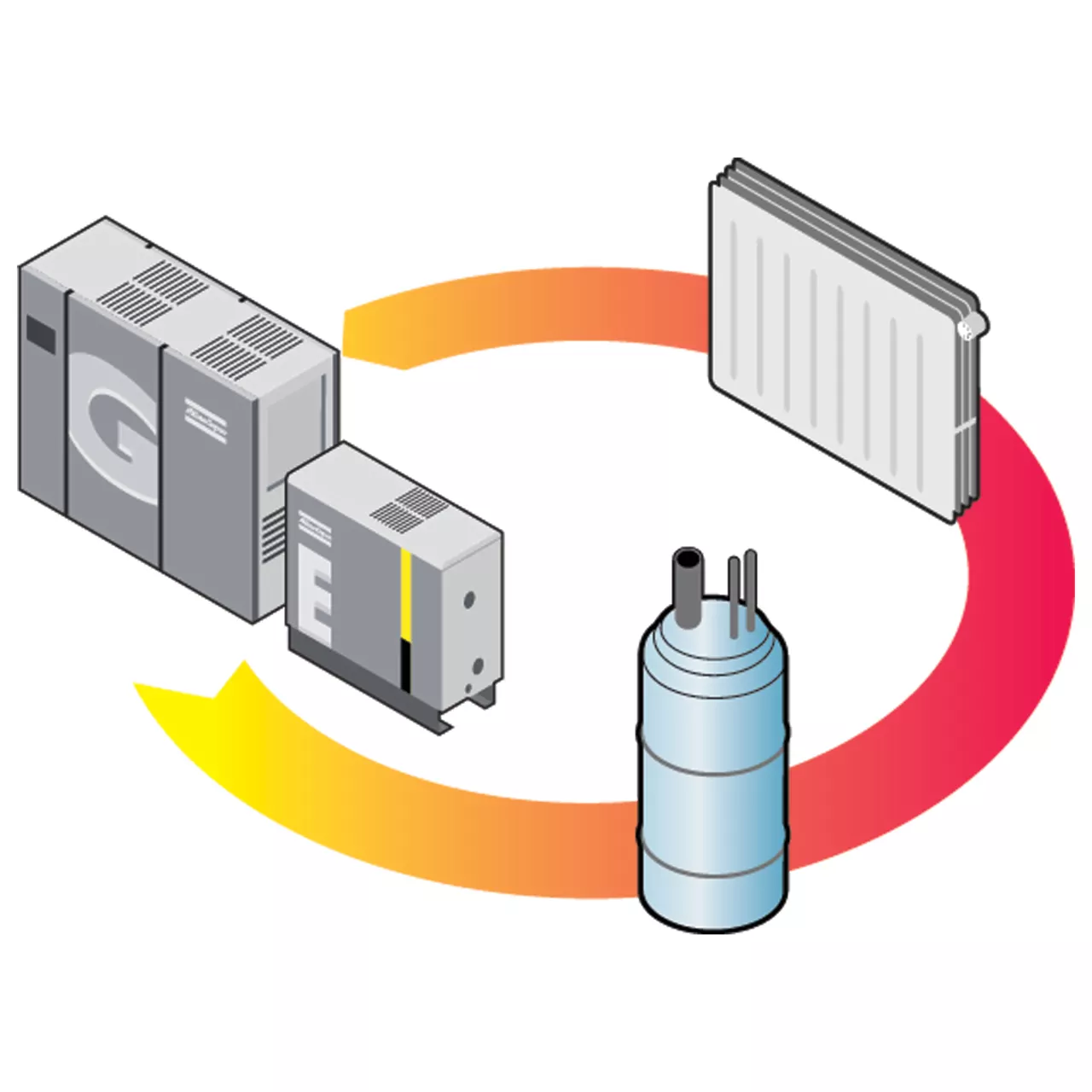 Compressor reliability together with energy efficiency is at the core of Control Gear and Atlas Copco's philosophy. All Atlas Copco oil injected rotary screw compressors are supplied with a standard twelve-month warranty. There is also the option of our industry leading 7 or 9-year warranty as part of a Guardian Service Plan – which can be purchased for all new equipment. Guardian Service Plans are an ideal peace of mind partner, ensuring fixed cost with no hidden extras for a 7 or 9-year period.

Our commitment to Quality, Health & Safety, Continuous Improvement, and the Environment has been endorsed by the winning of a number of prestigious awards over the years. All engineers are FGAS certified, and we hold ISO 9001, 14001 and 45001 accreditations.

Remote monitoring has become a leading tool in providing insight into a compressor running patterns, ongoing energy efficiency and general system health check. This helps to reduce costly down time. Atlas Copco's remote monitoring system Smartlink has three levels tailored to a customers' requirements. Atlas Copco has also developed market leading multi compressor control technology complemented with their ES touch screen systems. For more information and a demonstration contact our technical team today.

Why not use us as your compressed air utility provider?
We offer an extensive range of hire or lease options – supplying your compressed air requirements at a fixed cost and fixed term. This enables customers to preserve their working capital and concentrate focus on their own production demands without the need to worry about their compressed air supply. Many compressed air users are seeing compressed air as their 4th utility on site.
Frequently Asked Questions
What maintenance/servicing packages do you offer?
We offer a range of packages to meet your needs, from one-off Ad-Hoc services to long-term fixed-price contracts that include breakdowns, leak testing, and data logging to ensure your system operates efficiently.
How can I improve the quality of my air?
The addition of micro-fine filters, activated carbon filters, and dryers can enhance your air quality. However, these additions increase costs. We conduct audits for our customers to measure air quality and offer solutions based on their specific needs. This approach prevents over-filtering and ensures your products are protected.
How can I tell if my compressor needs servicing?
Modern air compressors have a service warning light to indicate when servicing is needed. For older machines, a service record must be maintained. At Control Gear, we log all services in our database to ensure none are missed. Feel free to ask us if you're uncertain about when your next service is due.
Contact us to find out more!
Do you want to learn more about our air compressors and what they can do for you? Or do you have an issue that needs solving? Whatever your compressed air requirements, we will have the solution for you.
Our highly experienced technical team are on hand Monday – Friday to offer any help and support you may need. Don't hesitate to get in contact: